I updated one of my favorite recipes with a video + some more pics! Make my
Favorite Stuffed Sweet Potatoes
tonight!
I was feeling like a super easy comfort food recipe today, so I whipped these cuties up. About an hour of baking time for the potatoes then the rest takes about five minutes. So easy!
These sweet potatoes are my favorite, with their golden flesh all stuffed with salty, garlicky hummus and topped with buttery avocado and perky red onion and smoky, spicy spices. Make a platter of these for your dinner or serve them to your family as a side dish. Load them up even more with hemp seeds, chopped nuts,
shiitake bacon
,
tempeh bacon
or
skillet chickpeas
.
Hope you love this easy go-to recipe for
Favorite Loaded Baked Sweet Potatoes.
Plus, I have updated this post with a few new photos and a recipe video!..
Grab a fork and a few lucky friends to share these beauties with..
It all starts with toasty-warm oven-baked potatoes, mashed a bit, all sticky and sweet..
Yup, still love these! This was my second photoshoot for these potatoes and they always impress visually and taste-wise! They are super flavorful and colorful. Irresistible for a sweet potato lover like me.
First photoshoot.. Loved so much I had to update with a video.
VIDEO:
Watch me make these!..
(Please subscribe to my YouTube channel to stay in touch!)
I love these with a garlic hummus. But I have always loved using a spicy hummus.
Tomatoes, olives, capers, sauerkraut, tempeh bacon.. what else can you think to top these beauties with?
A squeeze of lemon or lime juice is another optional touch.
These potatoes are packed with fiber, vitamin A, potassium, healthy fats, iron, vitamin C and loads of healthy phytochemicals.
For the hummus, you can absolutely just use a store bought brand for ease. I actually used a brand called Cava from Whole Foods.
But if you do have time and energy to whip up
DIY hummus here
are a few recipes..
*
Classic Restaurant Style Hummus
*
Sweet Potato Hummus
(for a double dose!)
*
Super simply 3-2-1 Hummus
As for me, you will find me devouring these jems followed by a tall mug of hot cocoa with vegan whip on top.
Netflix-ing and chilling, as you do this time of year.
What are we watching right now? I somehow got my husband OK-ing us rewatching Grey's Anatomy from the beginning. Score. I think he just likes watching to make fun of all the drama but oh well. We are up to season 7 and I have to say I do love this show despite it's strange love of ghost characters and over the top drama and more.
What are YOU Netflixing this time of year?


Favorite Loaded Baked Sweet Potatoes
Kathy Patalsky
Published 12/28/2016
Once your potatoes are baked, these potatoes take five minutes to prep and serve! So flavorful and packed with nutrition.
Ingredients
2 medium sweet potatoes, oven-baked and split in half
8-10 Tbsp hummus
1 small avocado, diced
1/4 cup red onion, diced
1/2 tsp smoked paprika
1/4 tsp black pepper
1/8+ tsp pink salt (optional)
drizzle of extra virgin olive oil
Instructions
First off, bake your sweet potatoes. Warm oven to 450 degrees, pierce a few holes in your potatoes and bake for 40-60 minutes or until tender and skins thin and toasty.
Allow the potatoes to cool for 5-10 minutes for easier handling.
Slice the potatoes in half and split the flesh down the center.
Add the hummus, followed by the avocado and onion. Then sprinkle with the salt, pepper and paprika. Then drizzle the oil over top. Serve warm!
Other optional toppings: hemp seeds, chopped nuts, skillet chickpeas, tempeh bacon, vegan cheese or nutritional yeast. And more!
Yield: 4 servings
Prep Time:
00 hrs. 05 mins.
Cook time: 00 hrs. 50 mins.
Total time: 55 mins.
Nutrition
Calories:

286kcal

Protein:

6g

Fat:

11g

Totalcarbs:

42g

Dietaryfiber:

10g
Tags:
sweet potatoes
,
easy
,
entree
,
vegan
,
best
,
side
,
recipe
,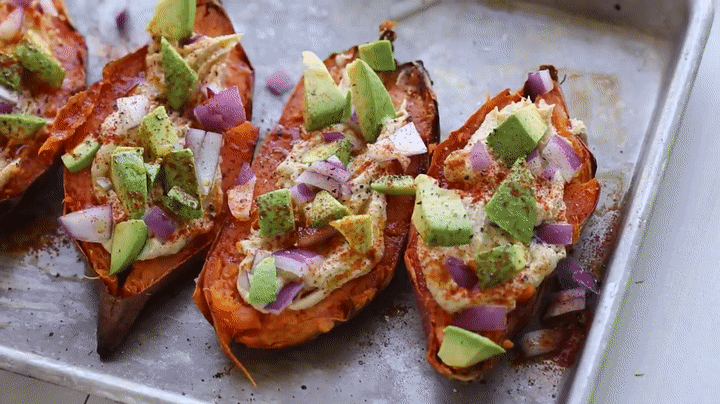 Pin-it for later..