Today I am sharing a few things with you guys. First off, this yummy recipe for avocado toast,
Avocado Hamil-toast
- avocado toast with warm skillet plantains on top, with lime and a hint of garlic.
SO good!
This toast is inspired by one of my favorite things right now,
Hamilton
the musical, created by the genius Lin-Manuel Miranda.
(I'll explain the toast-flavor connection a few paragraphs down!)
The Tony Awards are this Sunday June 12th. I will be "toasting"
Hamilton
and Lin-Manuel with some Avocado Hamil-toast. Hamilton has 16
Tony Award
nominations.
So in the spirit of the toast, I mean
this post,
the second thing I am sharing, a few of my pics from when I visited NYC and saw
Hamilton
a few weeks ago -- one of the most inspiring and beautiful theater / life experiences ever!
Alexander and avocados...
This toast is super satisfying and flavorful. Buttery avocados top warm toast and then on top, sticky-sweet warm skillet plantains with lime and garlic..
I hope Lin-Manuel would approve..
*my pic from my stage door experience after the Hamilton show. More pics at bottom.
So why is this plantain-topped dish called Alexander Hamil-toast??
Avocado Hamil-toast with plantains is inspired by Lin-Manuel's Puerto Rican heritage. Miranda's parents are Puerto Rican. And this all worked out since I just happen to have a pile of plantains in my fruit bowl because
I loooooove them.
Fellow Hamilton fan? Get loads of my Hamilton stage door pics at the bottom!

Avocado Toast with skillet Plantains and Lime
Kathy Patalsky
Published 06/11/2016
Avocado Toast with warm, sticky-sweet skillet plantains with garlic and red onion. Lime and smoked paprika to accent.
Ingredients
2 slices of bread, toasted
1 avocado, sliced or mashed
1 plantain, diced
1/3 cup red onion, diced
1 clove garlic, thinly sliced
1 lime, sliced into wedges
salt, pepper and smoked paprika to taste
2-3 tsp extra virgin olive oil for pan
optional: 1 tsp maple syrup
Instructions
Warm the extra virgin olive oil in a skillet over high heat. When oil is hot, add the plantains and toss well. Cook 2-3 minutes, then add the garlic and onion. Cook another 1-2 minutes to lightly caramelize the onion. Optional: to add a bolder sweetness, drizzle one teaspoon maple syrup over top. Turn off heat and let plantains cool for a minute before using.
Toast bread and add avocado - either mashed or sliced.
Add the plantain mixture over top the avocado. Squeeze lime over top. Optional: add lime zest over top. Add salt, pepper and smoky paprika to taste. Slice and serve.
Yield: 2 toasts
Prep Time:
00 hrs. 07 mins.
Cook time: 00 hrs. 07 mins.
Total time: 14 mins.
Tags:
avocado
,
bread
,
avocado toast
,
onion
,
plantain
,
appetizer
,
sandwich
,
snack
,
Let my Hamilton fan-girling commence..

So when I found out I was going to see
Hamilton
on Broadway, I felt like this..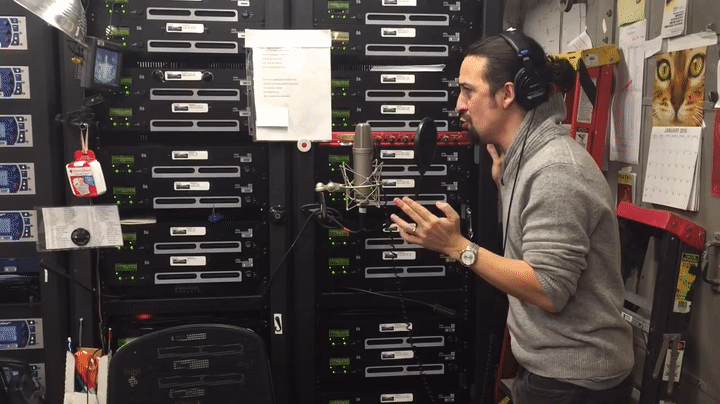 If you haven't hopped on the
Hamilton
fan-girl or fan-boy-ing
bandwagon, I urge you to listen to a few songs on the
Hamilton Musical Cast Album
, and see whatcha think. (
Alexander Hamilton
and
My Shot
are two good songs to start off with.
Wait for it, Burn, Non-Stop
and ... oh
forget favorites
--
the entire freaking album is incredible
.)
Watching Hamilton
live
was amazing. I felt like I was in a dream the whole time since I pretty much had the entire album memorized from listening to it so much. That was a little odd. To be seeing a show I already knew so well. But luckily, it just took everything in my head, all those songs, to a new visual-superstar experience. The emotional pull from each scene, created by the cast and the gorgeous weightless-feeling choreography and modern-meets-classic costumes, well it was all
perfect
.
It was the most energy-filled, emotional and interactive theater experience I have ever had. And besides
Lin
being amazing, the other cast members were incredible. I mean the talent and charisma in this cast is diverse and remarkable in so many ways. Leslie Odom Jr who plays Aaron Burr blew me away -- and I really hope he wins a Tony Award tomorrow night for best actor -- and Lin can win like
everything else.
After theater shows, I love doing
stage door
- if I have time and energy to hang around. It was a madhouse of fans holding Playbills and Hamilton books, awaiting signatures. Four stars came out that night, including Lin! And being face to face with the show's creator and main actor,
Lin-Manuel Miranda
was incredible. And do yourself a favor a
follow Lin on Twitter.
And you can enter to win some Hamilton tickets all while supporting a super cause, over on
PRIZEO
..
Here are some of my pics..

My video of the stage door madness..

More Hamilton pics!..

Toast the Tony's with this Avocado Hamiltoast!..

Enjoy the Tony Awards and this Hamil-toast :)
IF you are a fan of Hamilton, leave me a comment about that so we can rave together.
This is recipe #6 in the summer 15..
Summer15 HHL Recipes:
1.
Corn Fritters with avocado salsa.
2.
Pink Flamingo Cheesecake Bars
3.
Summer Salad in a Jar
4.
Copycat Green Tea Frappuccino
5.
Sticky-Sweet BBQ Apricot Tempeh Salad with avocado
6.
Avocado Hamil-toast
(avocado toast with skillet plantains)
7.
Cherry Pie Cookies
8.
Mother of Dragonfruit Smoothie Bowl
9.
Almond Butter S'mores
10.
DIY Pink Drink
11.
Cheezy Sauce for Pasta with Kale
12.
Summer Salad: Chili-Lime Mango-Avocado Quinoa Power Salad
13.
Vegan Peanut Butter Cookie Ice Cream