Last year, one of my favorite recipes from the fall/winter holiday season was my recipe for
Vegan Swirled Pumpkin Cheesecake
. Creamy layers of pure pumpkin swirled with cashew-blended tofu cream cheese. Vanilla, maple and cinnamon spice flavors in each moist, rich bite. Fluffy rice whip on top. The pie was a hit with everyone at my
Vegan Thanksgiving
feast (even non-vegan children and their skeptical parents were ogling at a second slice).
Pumpkin Pie 2010.
This year I created a recipe that echoes all the same flavors of last year's pie - the perk is that this re-vamped recipe is
easier
to make than ever! You can make it in as little as
FIVE ingredients -
(And I've added a 3-ingredient modification!)
plus a crust. See how!...




Like a Challenge?

Try my 100% from scratch Vegan Pumpkin Pie with Gingersnap Crust recipe. Or stick to the easy (and still yummy) version below...

It may look like an ordinary pumpkin pie, but it is

so much more...







I put a bit more 'pumpkin'

in this pumpkin 'cheesecake' pie...



Pie Options.

I wanted to give you two pie options for this recipe. One that was purely pumpkin (classic) as well as a pumpkin-flavored cheesecake. The pumpkin pie is moist and fluffy, while the pumpkin-cheesecake version has a dense, rich texture.

In both recipes, the pumpkin flavor really shines through.



The two ways to make this pie:



1) Pure Pumpkin Pie
2) Pumpkin Cheesecake Pie



*NEW BONUS:

3-Ingredient Pie!

see below..



*I tried and tested a

3 ingredient vegan pumpkin pie

last week. It worked! I was out of tofu cream cheese, so I increased the soaked cashews by 4 ounces and added in 6-7 ounces of soy milk to thin out the nuts.

I even skipped all the additional optional add-in's in my test-run of 3-ingredient pie.

Guess what, it worked! It was a tad more rustic, nutty and earthy due to the increased nut content. Less creamy/silky - but kinda perfect for a breakfast pie

(cashews and pumpkin - healthy, yum!)

So if you only have pumpkin pie mix, cashews and soy (non-dairy) milk on hand

you can make this modified pie!



The images shown are the Pure Pumpkin Pie version.



5 Ingredients (or more).

How did I do it? I used a

Farmer's Market

brand Organic Pumpkin Pie Mix. You can also use

Libby's

. The ingredients in the canned mix are conveniently vegan - simply pumpkin, sugar, salt and spices. But if you want to stay truly homemade, you can use your own real pumpkin puree (or canned 100% pumpkin) and add your own sweetener, salt and spices (I'll show you how below). It is up to you.



Pie Mix?

I was pleasantly surprised by the quality and flavor of the pumpkin pie mix. I think most of us baking a homemade pumpkin pie want to shy away from terms like "mix". And "pre-made". But really, don't put too much pressure on yourself to make this recipe harder than it has to be. I was quite pleased with the results of my pie - using the

canned

pumpkin pie mix.

..But if you still don't want to use the mix, here is a substitute recipe:



Canned "Pumpkin Pie Mix" Substitute:



28 ounces (3 1/2 cups) pure canned pumpkin (or equivalent fresh pumpkin puree) Pumpkin Puree Recipe I found here.
1 1/4 cups dry sugar
1 Tbsp pie Spice mix (cinnamon, nutmeg, cloves)
1 tsp salt

Almost to the recipes, but one last optional modification...



*SOY FREE* Pumpkin Pie Option.

I'm realizing a lot of you are craving soy-free recipe options. Well here you go! Substitute the 8 ounces of soy/tofu cream cheese with.. option 1: coconut cream option 2: an avocado. Or use a blend of both.

What is Coconut Cream?? Chill a can of full-fat coconut milk in the fridge. Open it. That hardened, fluffy top layer of 'cream' is what we call 'coconut cream'. It is a lovely sub for heavy whipping cream in a variety of recipes. Now I wouldn't advise this sub for the cheesecake version below, but go for it if you are making the "Pure Pumpkin Pie" recipe.

Perfect as a Spooky Halloween fall treat or serve at an upcoming holiday season feast..



Not a bad afternoon snack..



Onto the recipes...



Pure Pumpkin Pie


vegan, makes 2 pies

8 ounces tofu cream cheese
30 ounces (about 3 3/4 cups) canned Pumpkin Pie Mix (or sub ingredients shown above)
1 1/4 cups soaked raw cashews (soaked overnight in salted water)
3 Tbsp lemon or orange juice (optional - adds a slight zippy undertone)
2 tsp cinnamon (optional)

2 graham cracker pie crusts (or your own recipe)
handful of cashews for garnish

Pumpkin Cheesecake Pie


vegan, makes 2 pies



16 ounces tofu cream cheese
1 can - 15 ounces canned Pumpkin Pie Mix (or sub ingredients)
1 3/4 cups soaked raw cashews (soaked overnight in salted water)
3 Tbsp lemon juice
2 tsp cinnamon (optional)

2 graham cracker pie crusts (or your own recipe)
handful of cashews for garnish



Directions (same for both pie options):



1. Soak your raw cashews in salted water overnight or at least 6 hours. They should break apart easily and be tender to bite when properly soaked.

2. Preheat oven to 375 degrees.

3. Drain your nuts and set aside. Also set aside about 15-20 cashews or garnish. Gather all ingredients and set aside as well.




4. In a food processor, add the cream cheese, pumpkin pie mix (or substitute ingredients), cashews and lemon juice.




5. Blend on high until a creamy mixture is reached. Pulse in additional cinnamon (other spices may be added as well).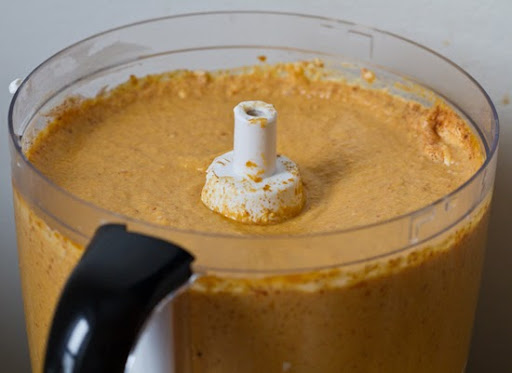 6. Pour your puree into your two pie crusts.

7. Swirl and smooth top with fork. Dot on cashews around the edge and center as you'd like.




8. Bake at 375 for 30 minutes. Cool. Place in fridge to firm before serving.



Serving suggestion:

Drizzle with warm maple syrup and/or add a swirl of vegan soy or rice whipped cream. OR add a scoop of vanilla Coconut Bliss vegan ice cream. yum!