This recipe for
Sweet 'n Sassy Sweet Potato Pockets
was my very first
signature
Thanksgiving recipe. I came up with it in college when I needed to bring my own "vegan Thanksgiving" side/entree to a non-vegan family feast. And since I LOVE Thanksgiving, I didn't want to miss out on any of my favorite dishes. So instead of bringing multiple dishes and crowding the already crowded dinner table, I made these little gems.
I wanted my entire vegan Thanksgiving meal stuffed inside a puffy pita pocket.
And that is what I got!
Everyone at the table raved about them - with shocked looks in their eyes - and by the end of the night I was scribbling down the recipe on a piece of scrap paper for one of the guests. And emailing it to others.
I make this recipe every year no matter what. I crave it. I love it. And it always reminds me that ANYONE can be inspired to try a vegan lifestyle.
Or at least a vegan dish at Thanksgiving...
These pockets contain
fiber and vitamin A-rich sweet potatoes
,
heart-healthy garlic
,
protein-rich hummus
,
healthy whole grains
in the pita bread and a dose of
super-fruit chutney
with cranberries and citrus. And a dose of nutrients from the
parsley and mixed greens
.
For 2017, I took some new pics and tried to simplify the recipe a bit for a video.
(Video below!)
These pockets can be super easy or a bit fancier, depending on a few tweaks.
To make them on the fancier side:

- Add orange zest and a squeeze of fresh orange or tangerine juice to the sweet potato mash.
- Make your own
homemade cranberry sauce
.
- Add a pinch of thyme to the pita-warming baking sheet and then add the toasted thyme to the sweet potato mash.
- Use
homemade hummus
.
- Roast your sweet potato in the oven (rather than cooking in the microwave, which is an option..)
- Add fancy greens such as arugula or baby kale or even shredded brussel sprouts when you add greens to the pitas. (Greens is an optional component.)
- Want to get crazy fancy? Make your own pita bread!
- Get creative with spices. You can add freshly cracked pepper, truffle salt, smoked paprika, turmerice, chipotle powder - just to name a few - to the mash.
- Brush the pita very carefully with EVOO. I usually just swirl some over top, but for a more luxurious flavor, carefully coat the front and back of each pita pocket with oil. You can even add a pinch of spice or pepper to the pita too!
But really, the cool thing about these comfort food flavors is that you can keep things SO simple and these pockets turn out fun + delicious + portable!
Bring these to wherever you are spending your holiday.
Thanksgiving on the go
never looked (and tasted!) so good ;)
Prep for the super simple version of this recipe!..
If you want to get more fancy, DIY your cranberry sauce and add some greens to the pockets too. (I almost always DIY my sauce, this canned sauce was really just to show the super ease possibilities!..)
I toast the olive-oil rubbed pita bread triangles in the oven until crispy warm - soft insides, crisp browned edges. Then stuff those pockets with all the goodies. Then I warm them in the oven just before serving - or serve right away.
Watch me make them..
Serve these pockets as a side dish or main course for your Thanksgiving Day feast!!
Updated: 2018

Sweet 'n Sassy Sweet Potato Pita Pockets
Kathy Patalsky
Published 11/06/2012
These pockets have everything Iove about the holidays in a cozy little pita pocket triangle. Cranberry sauce, hummus, sweet potato mash and crispy oven-toasted pita bread.
Ingredients
3 pita pockets, cut into quarters (12 triangles total)
1 medium sweet potato, baked
1 carrot, chopped
1/2 cup flat-leaf parsley, finely chopped
1 cup garlic hummus
1 tsp extra virgin olive oil
black pepper to taste
1/3 cup cranberry sauce (homemade or canned)
1 Tbsp nutritional yeast (optional)
baby greens or baby spinach (optional)
pinch of orange zest (optional)
Instructions
Warm an oven to 400 degrees and bake sweet potato for about 50 minutes. For a speedier bake, use a microwave. (Keep oven warmed to about 350 for step 3)
Add the flesh or the baked potato to a medium bowl. Add in the carrot, parsley and optional citrus zest to the sweet potato. Also add in 2 Tbsp of the hummus. Mash until smooth. Add a pinch of pepper to taste. Set aside.
Brush your pita pocket triangles in olive oil. Then lay them on a baking sheet. Bake the pita for about five minutes, just enough to lightly toast the outside and warm the inside. Tip: Peel open the pita triangles before baking so the edges do not bake together while toasting.
Assemble pockets: Peel open the toasted pocket. Add 1-2 tsp of hummus, 1 Tbsp of sweet potato mash, 1 tsp cranberry sauce and optional parsley or greens stuffed inside. Press to close. Repeat with all the pockets. Serve warm. For extra warming, place the stuffed pockets back in the oven for about 5-10 minutes to toast and warm everything together.
Yield: 12 pockets
Prep Time:
00 hrs. 30 mins.
Cook time: 00 hrs. 50 mins.
Total time: 80 mins.
Nutrition
Calories:

110kcal

Protein:

3g

Fat:

3g

Totalcarbs:

19g

Dietaryfiber:

3g
Tags:
thanksgiving
,
pita
,
holiday
,
sandwich
,
entree
,
vegan
,
sweet potato
,
hummus
,
christmas
,
Everyone has their signature, feel-good #Thanksgiving recipe. THIS is mine! Started making these years ago when I needed something portable to take to non-veg celebrations. Still love them! https://t.co/pMgJEYK9bG pic.twitter.com/XUAI1fe3aN

— Kathy Patalsky (@lunchboxbunch) November 21, 2018
It is really all about the sweet potato mash..
Get more of my Vegan Thanksgiving recipes here!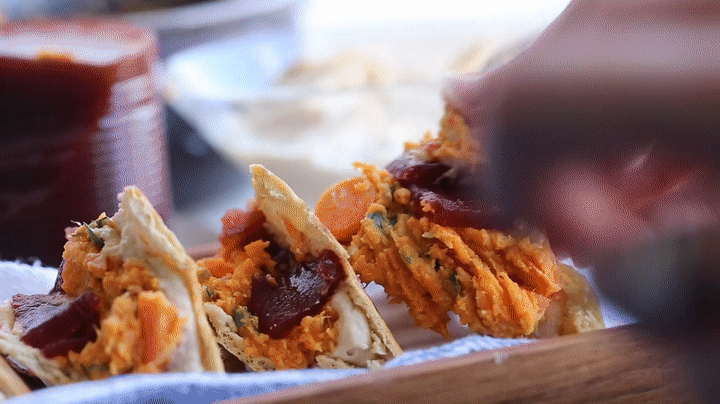 Pin it for later!..
(Don't worry, if you are super-fan of the original (longer) recipe, I have left it below for you! Original post + recipe follows...)
Sweet 'n Sassy Sweet Potato Pockets
vegan,
makes eight pockets
2 pita pockets, any variety grain pita you'd like
(I usually do a mixture of whole grain and basic white flour - for the picky guests) :)
2 cups Kathy's Sweet Potato Mash (ingredients below)
1/2 cup Cran-Citrus Chutney (ingredients below)
1 small tub garlic hummus (as needed)
fresh black pepper
cayenne and fresh thyme
mixed greens or baby spinach
olive oil for rubbing pita bread
Pitas:
Brush with olive oil, sprinkle with a pinch of fresh thyme and slice into quarters. (8 total from 4 pitas)
Warm in oven for ten minutes at 375 degrees.
Until softened on inside and edges are crisp.
Sweet Potato Mash (slightly modified from original recipe)
1 large garnet sweet potato (about 3 cups), baked
1 cup sweet onion, chopped
1 large carrot, chopped
1/4 - 1/2 cup garlic hummus
1/4 cup fresh tangerine or orange juice
1 cup parsley, chopped
1 Tbsp maple syrup
optional pinch of cayenne
salt/pepper to taste
*to add a crunchier texture, mix in 1/2 cup chopped celery.
Cran-Citrus Chutney
1/2 can cranberry sauce (or use homemade)
1 tangerine or orange, peeled and cubed
1 Tbsp tangerine or orange juice
1 grind of fresh black pepper
mix well by folding ingredients with fork
Pita Assembly:
Open pita gently and add the following:
Spread 1 tsp garlic hummus
Spoon 2 Tbsp Sweet Potato Mash
Spoon 1 Tbsp Cran-Citrus Chutney
Add a few leaves of mixed greens
squeeze pita tip to close - hummus can help to "seal" the pocket edges a bit
Before Serving:
Re-toast in 350 degree oven for ten minutes.
Serve warm.
Storage:
Store in fridge until ready to eat. Re-toast in oven. Or microwave gently for a soft pocket. They taste delish the next day too. I just microwave or warm in the oven.